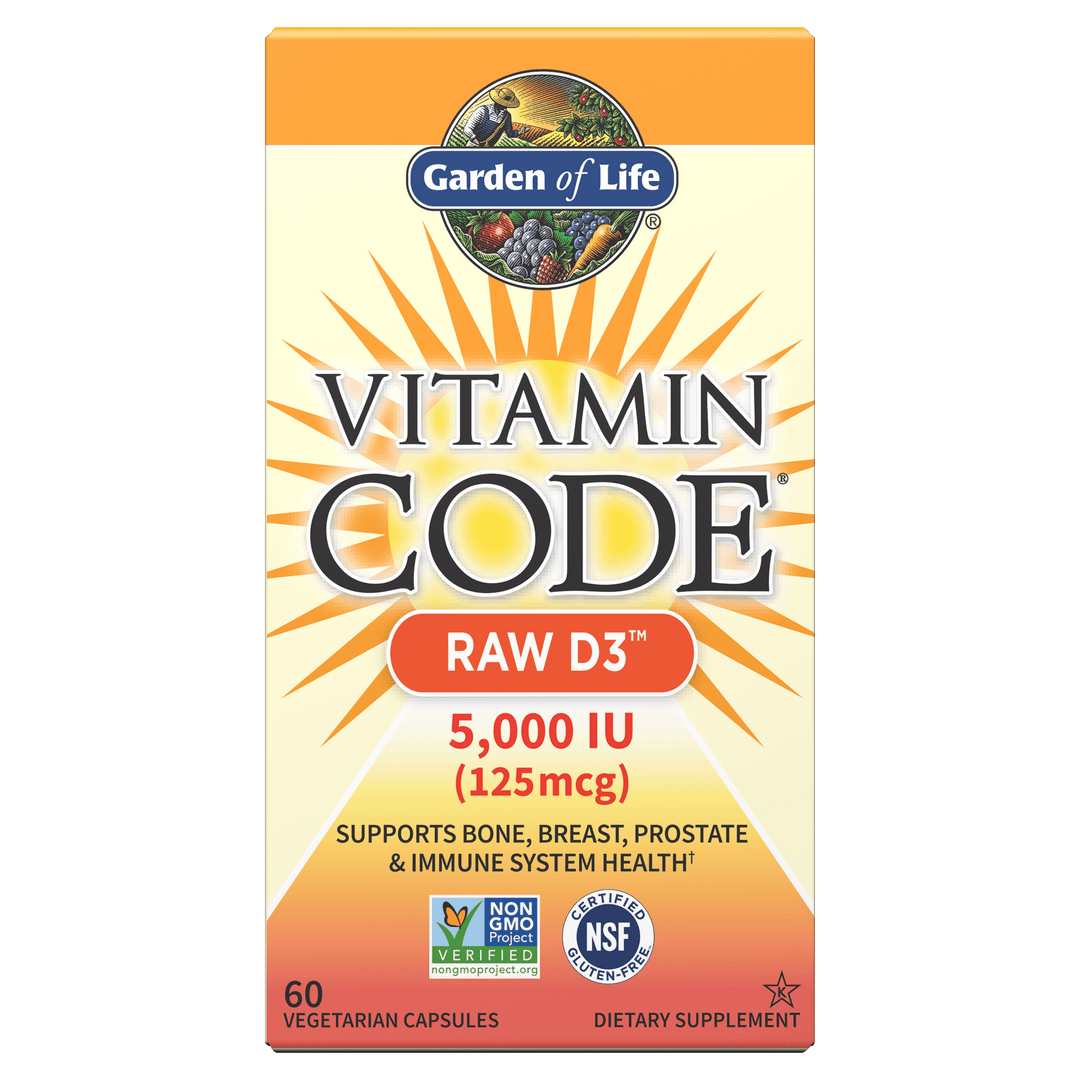 Garden of Life Vitamin Code Raw D3 5,000 IU is different from any other vitamin D nutritional supplement available today. In following with the Vitamin Code philosophy, Garden of Life Vitamin Code Raw D3 5,000 IU is a whole food vitamin D complex that is gluten- and dairy-free with no binders or fillers, and contains live probiotics and enzymes. More importantly, Vitamin Code RAW D3 is a raw source of vitamin D3.
Why Do I Need Vitamin D?
As vitamin D deficiency has become more prevalent, the attention and focus paid to vitamin D have increased, and for good reason. Most people familiar with vitamin D understand that this nutrient is essential to skeletal system health.
Along with calcium, vitamin D is considered vital for maintaining healthy bones. Vitamin D actually regulates the use of calcium in the body by dramatically increasing its absorption and utilization. Much of the interest in vitamin D stems from the fact that it's found throughout the body in over 600 receptor sites including the brain and the heart. Due to the fact that vitamin D receptors are so prevalent in the body, research has increased on vitamin D, and seemingly everyday new studies tout the health benefits of vitamin D consumption.
Recent studies have also shown that vitamin D supports immune health by helping to regulate the immune system. The brain is home to dozens of vitamin D receptor sites, and vitamin D has been shown to enhance memory and concentration.
Vitamin D supports healthy digestion, again since receptor sites are found from the mouth all the way through the intestines.
Healthy vitamin D levels support two increasing areas of concern: breast health for women and prostate health for men.
Why Choose Garden of Life Vitamin Code Raw D3 5,000 IU?
Typically found in two forms, D2 and D3, both have been shown to be effective in clinical studies to raising vitamin D levels in the blood. However, vitamin D3 is preferred since it's metabolized much better in the body and is in the form that comes from the most natural sources possible: the sun and our food.
Garden of Life Vitamin Code Raw D3 5,000 IU is the only RAW, vegetarian, whole food vitamin D3 formulated with RAW Food-Created Nutrients. Cultivated with live probiotics, antioxidants, enzymes and nutrient-specific peptides, RAW Food-Created Nutrients provide natural recognition of nutrients by your body to support:
Healthy Bones & Joints
Healthy Colon & Digestion
Memory & Concentration
Breast & Prostate Health
Proper Cell Replication
Immune System
Supplement Facts
Serving Size: 1 Capsule
Servings Per Container: 60
Vitamin D (as D3) – 5,000 IU – 1250% daily value
High Omega-9 Cracked-Wall Chlorella – 250 mg*
RAW Organic Fruit and vegetable Blend: 150 mg*: Organic Apple (fruit), Organic Beet (root), Organic broccoli (stalk & flower)
, Organic Carrot (root), Organic Spinach (leaf), Organic Tomato (fruit), Organic Strawberry (fruit), Organic Tart Cherry (fruit), Organic
Green Bell Pepper (fruit), Organic Blackberry (fruit), Organic Parsley (leaf), Organic Cauliflower (flower & stem), Organic Raspberry
(fruit), Organic Red Cabbage (leaf), Organic Cucumber (gourd), Organic celery (stalk), Organic Asparagus (flower and stem).
RAW Probiotic & Enzyme Blend: 60 mg*: Lipase, Protease, Aspergillopepsin, beta-Glucanase, Cellulase, Bromelain, Phytase,
Lactase, Papain, Peptidase, Pectinase, Xylanase, Hemicellulase, [Lactobacillus plantarum, Lactobacillus bulgaricus] (500 million CFU),

Other Ingredients: Vegetable cellulose (capsule), rice (hull).
*Daily Value not established
(Daily Value is based on 2,000 calorie diet.)
Suggested Use:
Adults take 1 Garden of Life Vitamin Code Raw D3 5,000 IU capsule daily or as directed by your healthcare practitioner.  Best when take with a meal. Capsule may be opened and contents may be added to water or raw juice.
Not intended for children, keep out of their reach.
Note:
Caution: As with any dietary supplemental, son cult your healthcare practitioner before using this product, especially if you are pregnant, nursing, anticipate surgery, take medication on a regular basis or are otherwise under medical supervision.