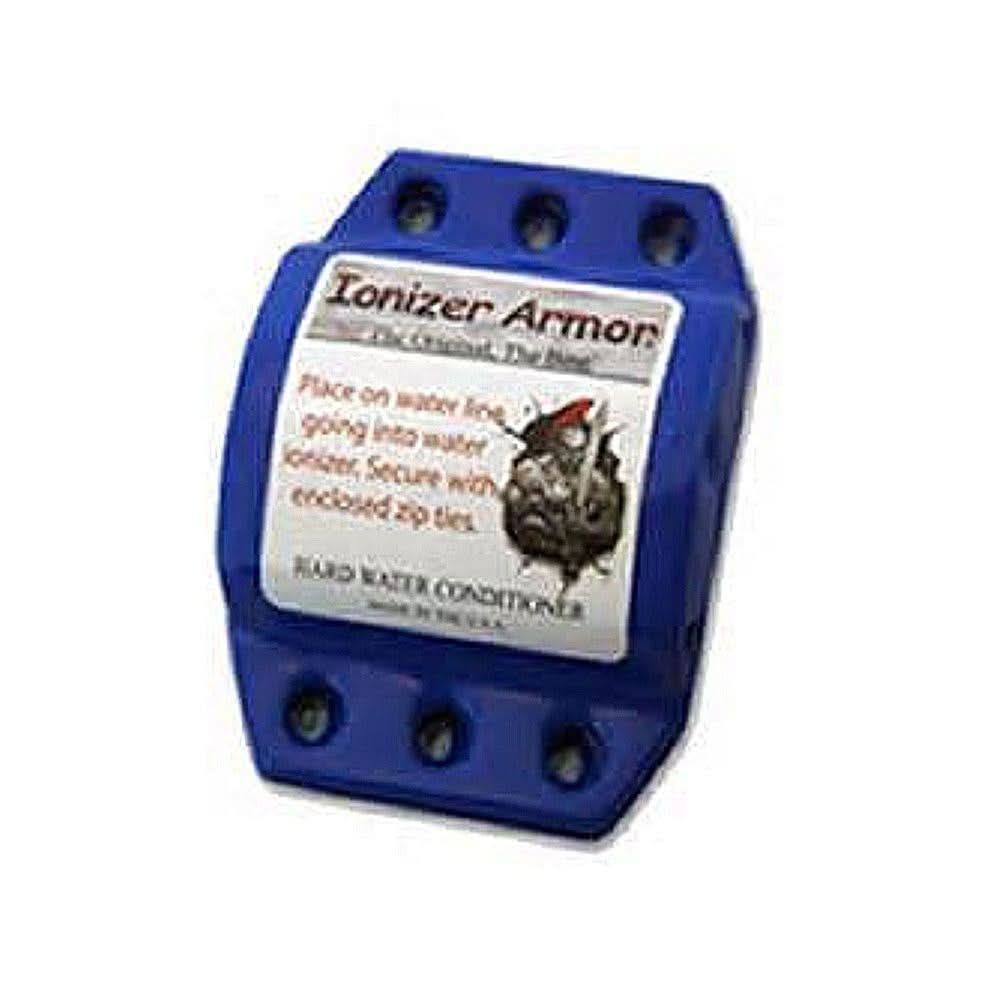 Ionizer Armor®
Free Shipping to the Continental US and Canada
International Buyers Must Call for a Shipping Quote
Includes lifetime warranty
The number 1 enemy of any water ionizer is scale build up inside the plate cell. More specifically, scale build up on the membranes that are between the plates.
When this occurs your ionizer cannot separate Acidic and Alkaline minerals properly and OPR and pH are reduced. Regardless of how well your ionizers self clean function works, scale or mineral build up will eventually
overtake your plate cell- even if you have soft water!! Remember that your ionizer concentrates minerals in the plate cell,which is part of how higher PH levels are created.
Ionizer Armor® easily snaps on your cold water line under the sink, as the cold water passes through the directional magnetic field of the Armor, the water goes through some very advantageous changes.
The ability of scaling minerals to stick anywhere is dramatically reduced. Our in-house testing has shown a 40-60% reduction in scale build up, not only in the plate cell but inside the entire machine.
Scaling minerals are abrasive. This abrasiveness is extremely hard on the platinum coating on your plates,this is why ionizer plates last a lot longer in soft water conditions. After passing through the Ionizer
Armor®'s field, these minerals become far less abrasive protecting the plate coating in the process!
Lower surface tension! Yes, Ionizer Armor® can achieve minor micro-clustering of the water even before it enters the ionizer! This gives you even more absorbable water than with an ionizer alone.
No more white flaky build up in glasses and containers. This is a common complaint of ionized water users. Because ionized water is rich in minerals, when the water dries up in a container you will see the dried
up mineral deposits. Not with the Ionizer Armor® in place, your glasses and containers will remain clear!
Improved water frequency. There'€™s a lot of buzz lately about vibrational frequencies and health, most of us have seen the EMF necklaces and Q ray bracelets for years now–some ionizer brands have even added
laser lights and other methods to the ionizers to improve the healthy vibrations of the water. These are new methods and while they may prove beneficial they give you more parts that can fail inside the ionizer.
Ionizer Armor® is a lifetime warranty product that installs outside the ionizer and has a 50 year track record(magnetic field water treatment) for safety and effectiveness. After eight years of testing (as of 2012)
we have seen better health results from customers using the Ionizer Armor® with their ionizers.
Silky smooth texture of the water. Water that has been through the Ionizer Armor®'s field has a noticeably silkier feel in the mouth. Try this experiment: Before installing the Ionizer Armor®, pour a large glass of
ionized water. Then install the Ionizer Armor®, run machine for approximately 20 seconds and then fill another large glass. Taste both waters and you will feel€ the difference in your mouth!
High Magnification Pictures of A Water Droplet with and without Ionizer Armor
Photos taken in the nuclear biochemistry department of a major university.
| | | |
| --- | --- | --- |
| | | |
| Acid Water w/o Ionizer Armor | Alkaline Water w/o Ionizer Armor | Alkaline Water with Ionizer Armor |
What is clearly visible is that the ionized water's rise off of the glass slide in a 75 degree angle, while the Ionizer Armor water rises as a 90 degree angle. Researchers all over the world believe that water that
has a 90 degree angle is more probable to form hexagonal clusters, which penetrate cells better and are considered more ideal for health. You should also notice that the Ionizer Armor droplet of water is more dense
than the regular ionized water, which illustrates the silkier feeling that those who drink Ionizer Armor water experience.
How does it work?
As water molecules pass by the powerful, highly focused magnetic field,two things happen: molecules are polarized (organized) and the water takes on a net positive (+) charge. This physically changes the water's molecular
structure. The result is soft water characteristics with is solved minerals, which will protect your water ionizer investment.
Beware of imitators and knock offs!
We are the first and the original- no one even compares.
We tested various strengths (Gauss) and directional magnetic field products for over 3 years before choosing the current Ionizer Armor®'s strength level and field direction. Some of the strengths and direction combinations
we tested actually caused more scale to build up inside the machine, some created no results at all. When choosing this type of Product don'€™t settle for scam artist'€™s versions or cheap knock offs,insist on the first, the
original and the highly field tested IONIZER ARMOR®.
Warranty: Ionizer Armor® is built to last. Should the front and back sections ever fail to snap together, mail the unit back to the dealer and it will be replaced free of charge. Ionizer Armor® is made in the USA.
Warning: Ionizer Armor® is not a simple magnet, it is an engineered,studied and field tested product that uses a precise and directional field to achieve its superior results, taping a magnet on the waterline will not come
close to producing the same results and could cause damage to you or your machine, trust us, we've tried it.
Reviews
"Smooth Water" written by LJ 17, 2012 4:29 pm "I added this unit to my Chanson VS-70 a few months ago, It is a wonderful product. I made one glass of water
before installing the armor and one after, the feel of the water in my mouth was remarkable, instantly smoother. To know this unit is also protecting my valuable ionizer as well provides great peace of mind. Very worthwhile
investment"
"It works!" written by N. Thomas. April 17, 2012 12:13 am "I use Ionizer Armor along with my Chanson VS-70 water ionizer which took care of the problem of white calcium build up inside my
drinking containers."
What is the most important consideration when choosing which water ionizer to purchase?
When it comes to the water that you drink, there is nothing else more important than the manufacturer
behind the product.
Here are the top reasons why customers choose Chanson ionizers:
Chanson is a 30+ year old Taiwanese water filter manufacturer and is a well-known household name in Taiwan with a stellar reputation for quality
and affordability. Chanson operate 400+ retail stores throughout the world.
Chanson is the only water ionizer manufacturer that produces 100% health products. In contrast, our competitors do not focus entirely on health products.
For example, Kangen is owned by Toyorubber a tire company. Buying from a health company is safer!
Chanson is the product manufacturer and not a parts assembler like many of our competitors. We have the ISO 9001 certification and will soon have
the ISO 14001, we are CE certified and will soon have a UL listing. We have multiple awards and certificates including the coveted Good Design award.
We have a NSF certification on our filters and we are proud members of the Water Quality Association.
Chanson's advanced circuitry and electronics not only provide some of the most powerful ionizers on the market but also the most compact
and space saving, our counter top models are up to 60% smaller than our competitors with the same and often times better performance.
They possess a number of patents including our "Nano coating" process which provides an extremely dense and conductive electrode surface which creates
superior ionization.
They test 100% of their ionizers before shipping to ensure the highest customer satisfaction and lowest defect rates.
They provide a full line of advanced alkaline water ionizers, water filters, filter replacements and cartridges to meet your families' water,
ionization and purification needs.
They provide extensive training, education and product knowledge to their dealers on all our water ionizing products.Therefore,
dealers can provide installation and exceptional customer service. Their dealers are the most knowledgeable in the industry and can answer any questions you
may have, regarding installation, technical support, and general knowledge. We believe in providing the best customer service possible so you can be sure
once you purchase a Chanson Water® Ionizer you have the best in the industry are just a phone call away.
They have a price protection policy (we try to stay below market rate on all of our products) to insure our customers get the best prices and our dealers
are protected from unfair practices.
They have the best Lifetime Warranty in the industry. The VS-70, Miracle, Miracle M.A.X. and Revolution include full lifetime warranties on parts and
a 5 year warranty on labor.The Violet has a full 3 year warranty on parts and labor.
They are a company of ethics and integrity and will never sacrifice quality for profits.
We look forward to and welcome your feedback on all of our products ISO 9001 certificate shown, is for our manufacturing plant in Taiwan.
Chanson Water is Better Business Bureau accredited (BBB)
Chanson Water ISO 9001 Certified
Chanson Water is verified of Conformity with CE directives
Chanson Water cares with hazardous substances (RoSH)
Underwriter Laboratory (UL)(In progress)
Chanson Water is member of Water Quality Association
Chanson Water comply to National Standard Foundation International(NSF)
Chanson Water is anti-bacteria certified
Chanson Water ionizer was tested by independent and prestigious lab and its alkaline water is considered higher anti-oxidization value