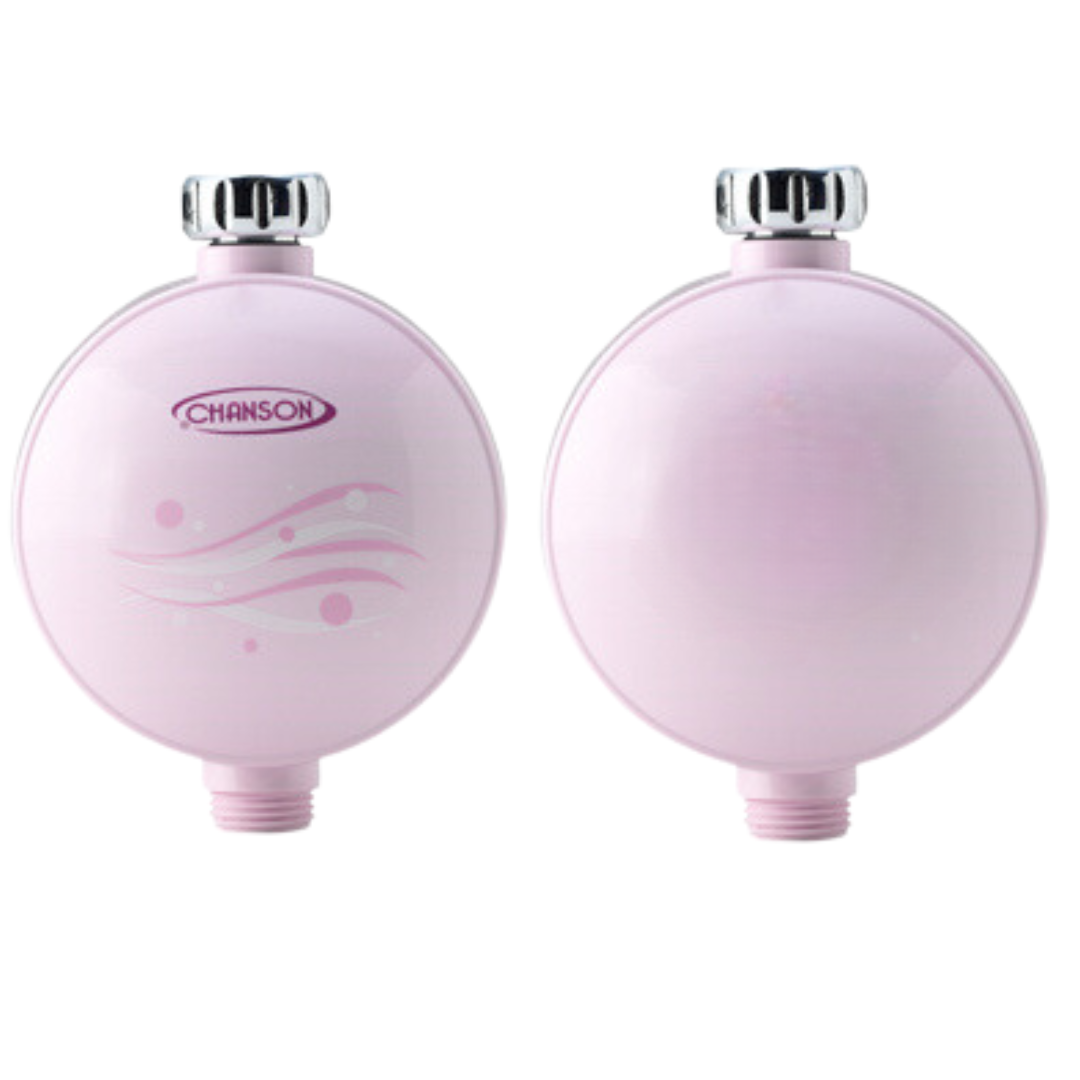 Chanson Shower Filter
The Chanson Spa Shower Filter pampers your skin, and protects your health with pure, clean water. Its eliminates chlorine and releases anion energy.
It can protect the skin and hair, leaving your skin looking noticeably smoother and your hair full of healthy shine and bounce. It truly produces water
the way nature intended, transforming your shower into a fabulous spa experience.
You deserve healthier water in every aspect of your daily life, not just your drinking water. The Chanson Spa Shower Filter provides a long lasting
solution to the problems associated with daily exposure to chlorine and chloramines. Without it, a ten minute shower results in absorption of the same
amount of chlorine as if you were to drink eight 8 oz. glasses of the same water!
According to U.S. Environmental Protection Agency (EPA), "Breathing small amounts of chlorine for short periods of time adversely affects the human
respiratory system. Effects range from coughing and chest pain to water retention in the lungs. Chlorine irritates the skin, the eyes, and the respiratory
system."
The Chanson Spa Shower Filter uses the highest quality chlorine and chloramine reduction material calcium sulfite which has been proven more effective
than active carbon and KDF which some competitors use due to cost. It removes 95% of harmful chlorine and chloramines from your shower water. It is the
only shower
filter that softens and energizes the water in addition to removing chlorine and chloramines.It can also transform the water into small water molecules
and release healthy anions through the specially-cured crystals in the Ceramic balls, to clean the deepest part of our skin and gain long-term moisture
preservation effect, creating a softer, more energized shower for improved lathering and feel.
Benefits of the ChansonSpa Shower Filter include:
Leaves the skin looking smooth, young, and healthy.
Makes healthier, softer, and more manageable hair.
Prevents chlorine-caused dandruff, and helps relieve dry skin and scalp
Protects hair conditioned and dyed hair coloring
Improve dry, irritated and itchy skin conditions.
Good for sensitive and damaged skin, and even a baby can use it
Good for fish aquariums – no need to age tap water
Protects pets' skin and hair from the chlorine and chloramines of tap water
Less fading on color-treated hair
Improved lather of soaps and shampoos
Reviews
Worked wonders for my hair! Review by C.M.
"I recently purchased a home in Riverside county and did not realize that their tap water ranks #4 WORST in the country until it was too late!
Fortunately I already have an ionizer but the unfiltered tap water was doing a number on my hair. I was shocked when it literally stripped red permanent
dye within three washes (a hairdresser once told me that red is the hardest pigment to extract!) In addition, the water left my hair dull, dry,
frizzy and unmanageable and gave me dandruff for the first time in years. I hadn't changed any of my hair care products so I knew it was the water
and that I had to do something about it fast. The Chanson Spa Shower Filter seemed like the perfect solution, so I ordered one and am pleased
to share my results.

Installation took less than five minutes and required no tools. Instantly noticed an absence of the harsh chemical smell that had previously
plagued the water. I was worried that the addition of the shower filter might negatively effect my water pressure since I already use an eco-friendly
shower head but if anything the water pressure seemed more powerful. The water temperature was also hotter at a lower setting, and I can only imagine
it's due to the FIR energy. When I was done washing, my hairbrush went through easier. And best of all, my hair has now been restored to it's shiny,
smooth, dandruff-free self!

Here's what my hair looked like after air-drying and running a brush through it BEFORE installing the Chanson
Spa Shower Filter:Scary, right? I couldn't leave the house without some serious damage-control. But here's what it looks like
after just four washes with the Chanson Spa Shower Filter and the same exact shampoo, conditioner, etc.:
I would recommend this product to anyone."
-Christina M., Lake Elsinore, CA (Posted on 4/11/12)
Fantastic Product! Review by Cliff Hirschhorn
"I have been a very satisfied customer for several years. The Chanson product line is fantastic (I have the shower filter as well as the ionizer).

When I recently moved, I disconnected the shower filter and somehow damaged the unit, so I am awaiting a replacement. What I have noticed in this
short period of time without the shower filter is that my water smells like chlorine, and my skin has begun to show some areas of redness.

Needless to say, I cannot wait for my new Chanson shower filter to arrive!!!

Sincerely, Cliff Hirschhorn, Marlton, NJ "
(Postedon 2/22/12)
Specifications
Net Weight: 360g
GrossWeight: 525g
Origin: Taiwan
Package Size: 13.6 x 8.7 x 14.8 cm
Service Life: 20,000L or 12-18 months (depends on the water quality and frequency of usage)
Expiration Date: 7 Years (after Manufacturedate)
Swirling Anion Deflector
The innovative deflector generates negative ions by swirling in the water. In nature, water close to waterfalls, or within
forests, is full of negative ions. The impact between the water molecules and the rocky environment allows the water to absorb a negative electrostatic charge.
The impact between the particles from water and the environment produces electrostatic, which leads to the negative ions to fill the air. Meanwhile,
the plants release water particles along with electrostatics which also fill the forest with negative ions. And this is the reason why people would
feel energetic while being around these areas. When the human body absorbs these energizing ions, great health improvements are often seen, including
cleansing of the blood, enhancement of the immune system,improved sleep quality, improve blood circulation, activation of cells, adjustment of the
autonomous nervous system, and overall reduced stress and fatigue on your body. Also doubles the effect to remove chlorine.
Ceramic FIR Ball Filtration
The Chanson shower filter contains highly specialized ceramic balls with FIR that reduces the water's surface tension. Ceramic balls will emit FIR
(FAR infrared rays) to activate water molecules, and create deep moisture. This allows for an increase in lathering of soap and shampoos.
The ceramic FIR filtration gives the water a lighter, softer feel. It improves wetness and makes coarse, dry hair soft and silky.
Calcium Sulfite
High efficiency materials CASo3 (Calcium sulfite) are excellent to remove chlorine in the heat in seconds.
Chlorine gas is more likely to be released in hot water. The longer the shower, the greater the concentration of chlorine gas in the air we breathe.
Other features:
100% environmentally safe and natural
Colorful and beautiful design choose from white or pink
Attaches easily to any shower fixture
Filter life of 15,000-20,000 liters (approximately 12-18 months)
Affordable and low in maintenance cost
Easy to install and to change refill cartridge
Totally neutralizes chlorine and chloramines, a cancer causing substance left in city water from your shower water.
FAQ
Q. How is the Chanson shower filter installed?
A. Simply screw the filter inlet onto your existing shower arm. No special tools are required, just hand tightening.
The Chanson shower filter should be used with a good quality, low flow shower head that has been purchased since 1995. This guarantees conformity
to the U.S. Energy Policy Act, which limits water delivery to no more than 2.25 gallons per minute at 80 PSI.
Q. How long does the Chanson shower filter last?
A. Shower filter media life depends on the quality of your source water – the cleaner your water, the longer the filter will last.
We have determined that the filter will last approximately 12-18 months for a family off our, using 4,000-5,500 gallons (15,000-20,000 liters) in that period.
The filter is designed so it does not have to be back flushed, and shower filter media replacement is easy – simply unscrew the side body cap, dump out
the existing filter, replace with the new filter, and screw the body cap back on. The shower filter body should last for several years if taken care of
properly.
What is the most important consideration when choosing which water ionizer to purchase?
When it comes to the water that you drink,
there is nothing else more important than the manufacturer behind the product.
Here are the top reasons why customers choose Chanson ionizers:
Chanson is a 30+ year old Taiwanese water filter manufacturer and is a well-known household name in Taiwan with a stellar reputation for quality
and affordability. Chanson operate 400+ retail stores throughout the world.
Chanson is the only water ionizer manufacturer that produces 100% health products. In contrast, our competitors do not focus entirely on health products.
For example, Kangen is owned by Toyo rubber a tire company. Buying from a health company is safer!
Chanson is the product manufacturer and not a parts assembler like many of our competitors. We have the ISO 9001 certification and will soon have
the ISO 14001, we are CE certified and will soon have a UL listing. We have multiple awards and certificates including the coveted Good Design award.
We have a NSF certification on our filters and we are proud members of the Water Quality Association.
Chanson's advanced circuitry and electronics not only provide some of the most powerful ionizers on the market but also the most compact
and space saving, our counter top models are up to 60% smaller than our competitors with the same and often times better performance.
They possess a number of patents including our "Nano coating" process which provides an extremely dense and conductive electrode surface which creates
superior ionization.
They test 100% of their ionizers before shipping to ensure the highest customer satisfaction and lowest defect rates.
They provide a full line of advanced alkaline water ionizers, water filters, filter replacements and cartridges to meet your families' water,
ionization and purification needs.
They provide extensive training, education and product knowledge to their dealers on all our water ionizing products.Therefore,
dealers can provide installation and exceptional customer service. Their dealers are the most knowledgeable in the industry and can answer any questions you
may have, regarding installation, technical support, and general knowledge. We believe in providing the best customer service possible so you can be sure
once you purchase a Chanson Water® Ionizer you have the best in the industry are just a phone call away.
They have a price protection policy (we try to stay below market rate on all of our products) to insure our customers get the best prices and our dealers
are protected from unfair practices.
They have the best Lifetime Warranty in the industry. The VS-70, Miracle, Miracle M.A.X. and Revolution include full lifetime warranties on parts and
a 5 year warranty on labor.The Violet has a full 3 year warranty on parts and labor.
They are a company of ethics and integrity and will never sacrifice quality for profits.
We look forward to and welcome your feedback on all of our products ISO 9001 certificate shown, is for our manufacturing plant in Taiwan.
Chanson Water is Better Business Bureau accredited (BBB)
Chanson Water ISO 9001 Certified
Chanson Water is verified of Conformity with CE directives
Chanson Water cares with hazardous substances (RoSH)
Underwriter Laboratory (UL)(In progress)
Chanson Water is member of Water Quality Association
Chanson Water comply to National Standard Foundation International(NSF)
Chanson Water is anti-bacteria certified
Chanson Water ionizer was tested by independent and prestigious lab and its alkaline water is considered higher anti-oxidization value

Chanson's EPA registration number is 90977