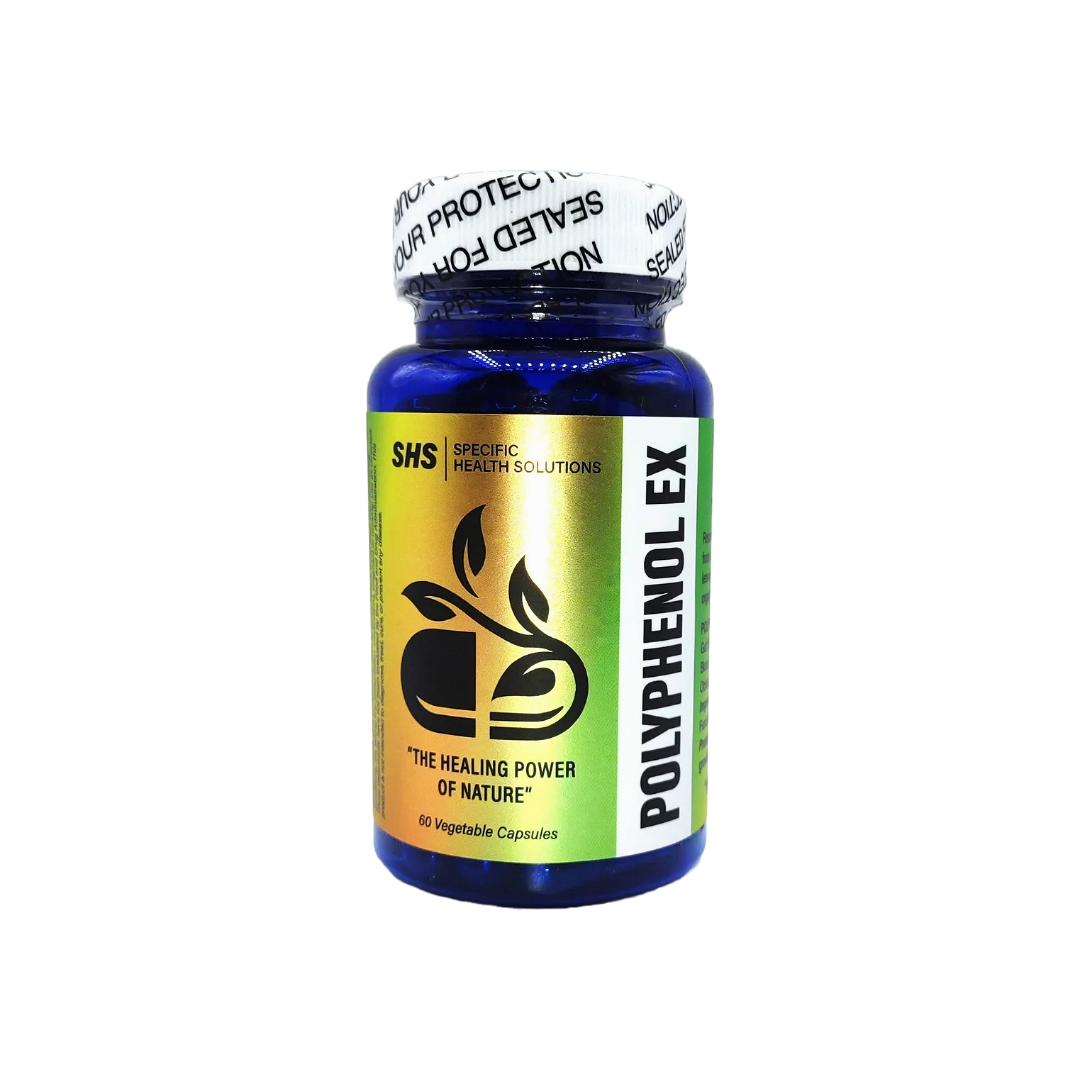 Elevate your health with the goodness of nature's finest polyphenol sources, expertly formulated to provide protection against chronic diseases and support for your overall health!
POLYPHENOL EX HAS 9 NATURAL PLANTS WITH HIGH POLYPHENOLS. CONTAINS 100 MG OF PLANT POLYPHENOLS PER CAPSULE!
Help fights damaging chemicals and toxins inside our cells which cause stress and aging in our bodies.

The key to repairing your gut health and and feeding your good gut microbes. 

Repairs small holes caused by Leaky Gut. That causing your immune system to be overloaded, stressed, and vulnerable to other health issues.

Helps maintain or lose weight and fights obesity by reducing fat cells and preventing fat cell production.

They feed good gut bacteria, improving digestion, lowering inflammation and pain.

Helps with memory loss related diseases, aging, stress, stroke and cancer cell growth.

Lowers blood sugar levels, and helps reverse insulin resistance and type 2 diabetes by slowing down glucose digestion. 

They lower the risk of heart disease by reducing blood pressure, LDL cholesterol and blood clot formation. 

It helps you to reverse autoimmune issues, arthritis and most skin conditions.
Epidemiological research provides compelling evidence that the consistent consumption of polyphenol-rich diets offers significant protection against the development of chronic illnesses.
Ingredients: Proprietary Blend of Cloves, Peppermint Leaf, Moringa, Star Anise, Cacao, Mexican Oregano, Ceylon Cinnamon, Chaga Mushroom and Piperine.
Researchers have discovered a consistent factor among the exceptionally healthy Blue Zones around the world: their high intake of polyphenols. In these regions, it has been observed that the inhabitants consume diets rich in polyphenols, surpassing 650 mg daily. This robust polyphenol consumption appears to be the pivotal contributor to the remarkable health and longevity observed in these distinct regions. In contrast, even the healthiest diets in the United States typically provide no more than 450 mg of polyphenols per day. Studies show that 99% of the population lack the necessary Polyphenols in their diets, leaving them unprotected and unable to maintain proper organ health and body functions.
POLYPHENOL EX boasts a potent 100 mg of plant-derived polyphenols in every single capsule. Regain your vitality and optimum health once more!