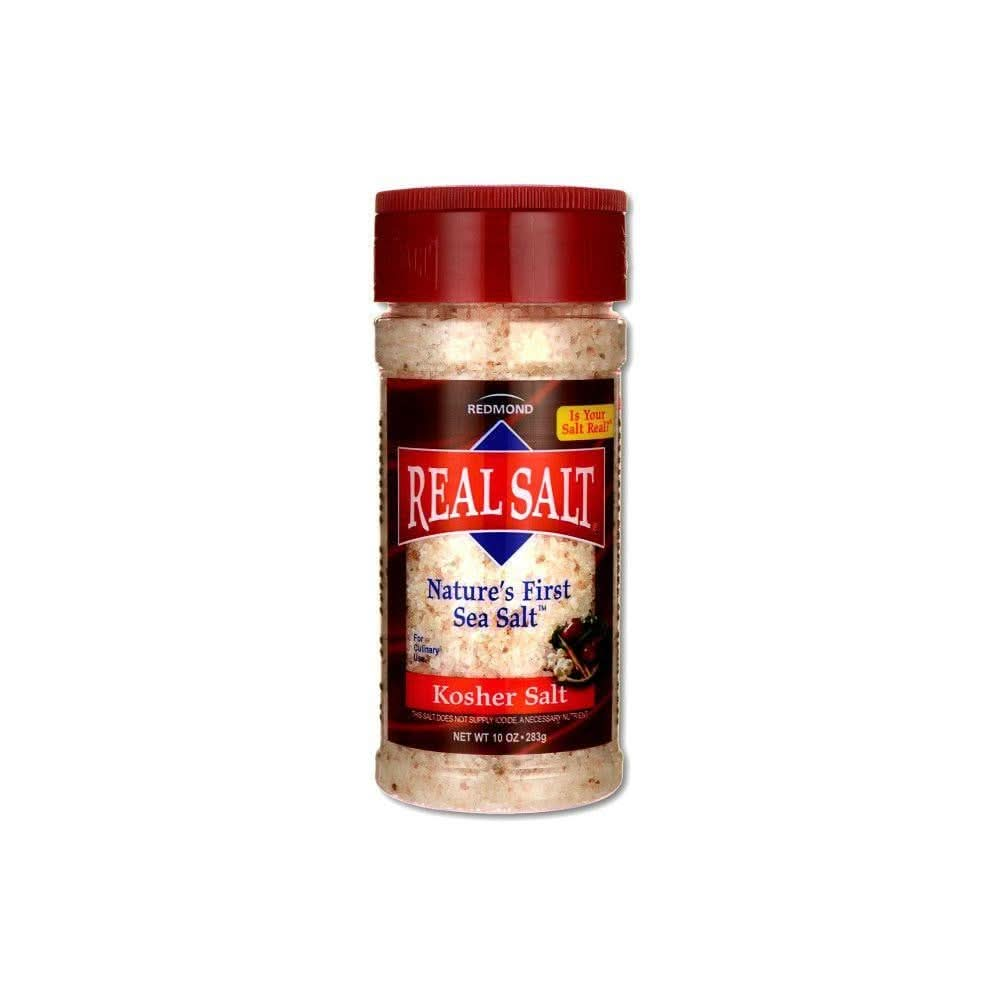 Recently the term "Kosher has become confusing in the salt market because there are two meanings of "Kosher Salt". While all RealSalt products are "Kosher Certified" by the Orthodox Union, and therefore approved for the Jewish community, "Kosher Salt" has a slightly larger granulation size. Now when a recipe calls for Kosher Salt you can reach for your Real Salt Kosher shaker and enjoy the award-winning flavor!
Unlike refined salts, Real Salt doesn't contain harmful or mineral depleting procedures. Below is a list of the differences:
60+ Trace Minerals
No Additives
No Anti-Caking Agents
Not Exposed to Possible Polutions
No After Taste
Natural State of the Salt
Real Salt means real, authentic salt. A quick glance at the ingredients label on most salts might surprise you! Many salts contain anti-caking agents and even dextrose (sugar). Others have been heat processed and stripped of their natural trace minerals. Real Salt brand, on the other hand, is unrefined and full of natural minerals and flavor-€ "the way salt was meant to be savored.
Trace Minerals
Just like minimally-processed flour is healthier than enriched, bleached, white flour, Real Salt is healthier than white salts because of the things we do no€™t take out of it. Real Salt is approximately 98% sodium chloride and 2% trace minerals, and it€™'s these 60+ trace minerals that make Real Salt real. Some of these minerals do not dissolve in water, but they are bio-available (your body can absorb and use them as nature designed) and are good for your health.
Average Percent
Sodium Choride – 98.32%
Calcium – .40%
Potassium – .12%
Sulphur – .11%
Magnesium – .10%
Iron – .06%
Phosphorus – .05%
Iodine – .002%
Manganese – .0015%
Copper – .001%
Zinc – .0006%
Real Salt also contains numerous other trace minerals in minute quantities.
Harvesting Salt To Avoid Pollutions
Many people have concerns about sea salt that comes from our current oceans due to the acid rain, mercury, lead, toxic waste, sewage, garbage, radiation, and oil spills. Real Salt contains the same amount of trace minerals you would find in sea water today, but has been preserved underground, tucked away from modern pollution. Real Salt is currently harvested about 300 feet below the surface of the earth. We carefully follow the food grade veins and harvest the salt using carbide-tipped equipment that basically scrapes the salt off the walls of the mine. From there, the salt is screened and crushed to size before being shipped to our food grade facility in Northern Utah. Real Salt is packaged after passing through a final automatic screening to be sure no metal residue or contaminants were introduced during the process. Real Salt is in the business of supplying the most natural salt available so as part of their commitment to excellence you can be sure your getting a product handled and harvested with the highest degree of standards.
Nutritional Facts
Serving Size: 1/4 tsp (1.4 g)
Calories: 0
Calories from fat: 0
Amount Per Serving:
Total Fat: 0 g – 0% daily value*
Cholesterol: 0 mg – 0% daily value*
Sodium: 530 mg – 22% daily value*
Total Carbohydrate: 0 g – 0% daily value*
Protein: 0 g – 0% daily value*
Iodine: 10% daily value* — not a dietary source of iodine
Vitamin A: 0% daily value*
Vitamin C: 0% daily value*
Calcium: 0% daily value*
Iron: 0% daily value*
* Daily value is based on a 2,000 calorie diet
Ingredients: 100% real salt