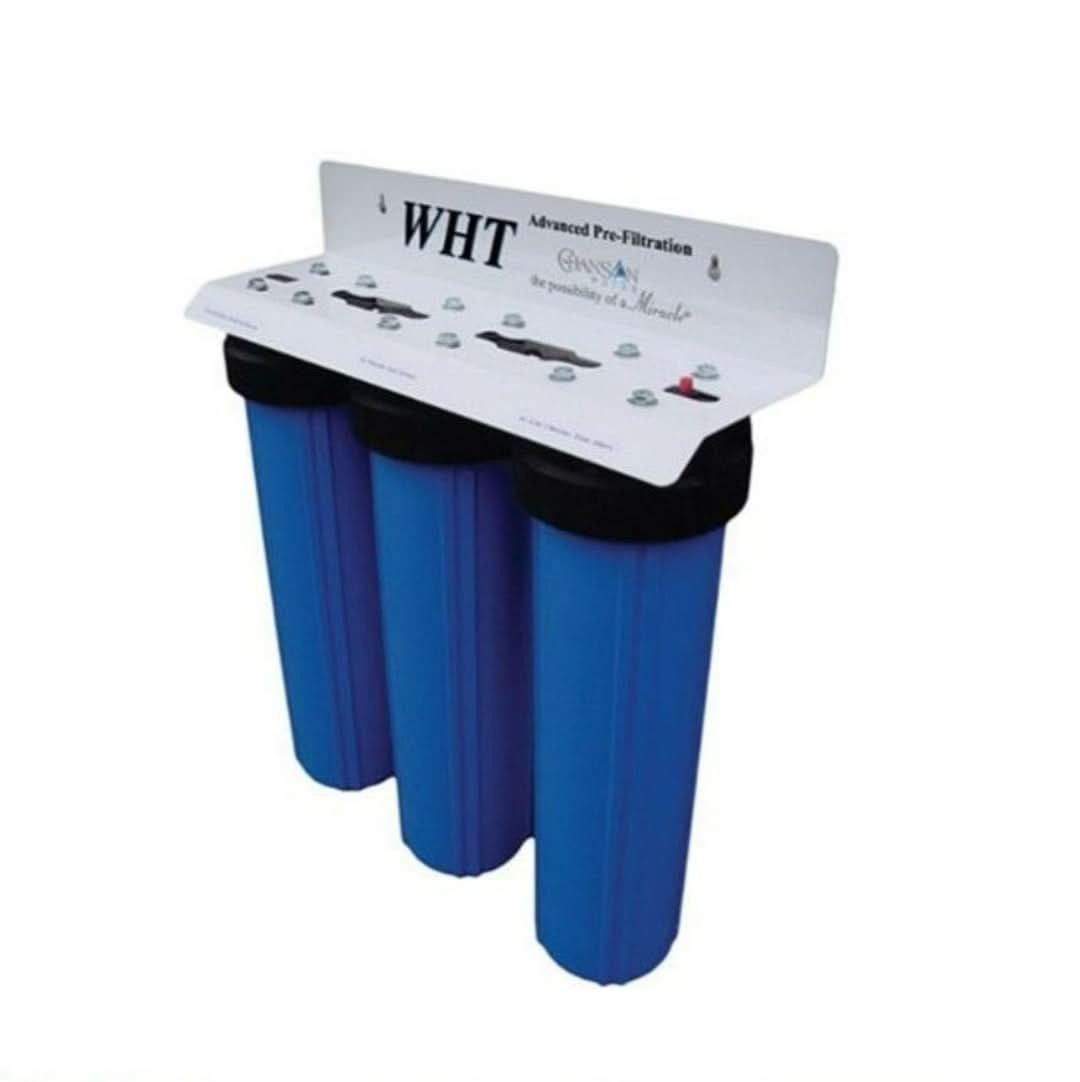 Chanson Whole House Triple Filter
Free Shipping to the Continental US and Canada – International Buyers Must Call for a Shipping Quote
Includes Limited Lifetime Warranty
Now you can enjoy healthy drinking water out of every tap in your home, take chemical-free showers and baths, and preserve appliances and fixtures with our Whole House Triple Filter (WH3). Experience three advanced stages of filtration which have been NFS approved and rest assured that you and your family are drinking and bathing in the healthiest water possible.
The Chanson Whole House Triple Filter is the invention of Chanson Water USA, Inc. CEO Ronnie Ruiz and was developed after years of reviewing water reports around the USA and listening to the requests and feedback of customers. In the past, whole house filters were rarely more than a large tank full of carbon for chlorine removal, which leaves the water far from drinking quality. Ruiz discovered that he could modify his drinking water pre-filter, and with a few changes he could have the same quality system for the entire house.
Three Stages of Filtration
Your WH3 Filter Includes The Following Three 20″ Canisters:
Stage 1: GAC: Granulated Activated Carbon – Addresses chlorine, taste,and odor
Stage 2: Activated Alumina – Addresses fluoride, lead, and arsenic
Stage 3: KDF+55 – Addresses heavy metals, nitrates, sulfur, and some bacteria
Fully Customizable
The Chanson WH3 Filter can be completely customized for any home water situation, from well water with high bacteria levels to city water with fluoride and other harmful chemicals. The WH3 Filter can even be customized to be used as a disaster relief filter, by installing antibacterial? filter in one of the canisters–eliminating the need for boiling water or worrying about water safety during times of disaster.
Long-Lasting
Our WH3 is designed to last an entire year.
Full-Flow Rate
The WH3 filters up to 12 gallons per minute, which is the equivalent of having three showers running at the same time. Larger systems are available upon request.
Lifetime Warranty
All Chanson filters have full lifetime warranty on the housings, hoses and fittings. Should your filter housing, hoses or fittings ever become damaged for any reason just give us a call and we will instruct you on how to mail the damaged parts to us and will mail replacements to you right away.
Benefits
Provides healthy drinking water out of every tap in your home.
Enjoy chlorine and chemical-free showers and baths.
Safe, clean water for cooking and cleaning.
Eliminates the need to purchase expensive and environmentally-unfriendly water bottles.
Preserves appliances and fixtures, as chlorine, sediment, chemicals,and other contaminants in your water slowly deteriorate faucets and plumbing.
Easy Installation & Maintenance
Installs in a few hours, inside or outside.
Mounts on the wall for minimal space use.
Annual filter replacement is easy, requires no special skills or purchase of special tools, and takes less than ten minutes.
No other maintenance is required.
Specifications
Height: 27.5″
Width: 24.25″
Depth: 8″
Weight (loaded): 46 lbs.
Water Flow Rate: 12 Gallons per Minute
Water Pressure: 10-120 PSI
Capacity: 30,000 Gallons or 1 year of use by a family of 4
Power Consumption: 0 watts
Plumbing Requirements: 1″ inlet and 1″ outlet (no drain)
Installation Locations: Indoor or Outdoor, has wall mount bracket for hanging
What is the most important consideration when choosing which water ionizer to purchase?
When it comes to the water that you drink, there is nothing else more important than the manufacturer behind the product.
Here are the top reasons why customers choose Chanson ionizers:
Chanson is a 30+ year old Taiwanese water filter manufacturer and is a well-known household name in Taiwan with a stellar reputation for quality and affordability. Chanson operates 400+ retail stores throughout the world.
Chanson is the only water ionizer manufacturer that produces 100% health products. In contrast, the competitors do not focus entirely on health products. For example, Kangen is owned by Toyo rubber a tire company. Buying from a health company is safer!
Chanson is the product manufacturer and not a parts assembler like many of the competitors. They have ISO 9001 certification and will soon have the ISO 14001,  CE certified and will soon have a UL listing. We have multiple awards and certificates including the coveted Good Design award. We have NSF certification on all filters and  proud members of the Water Quality Association.
Chanson's advanced circuitry and electronics not only provide some of the most powerful ionizers on the market but also the most compact and space saving, our counter top models are up to 60% smaller than our competitors with the same and often times better performance.
They possess a number of patents including our "Nano coating" process which provides an extremely dense and conductive electrode surface which creates superior ionization.
They test 100% of their ionizers before shipping to ensure the highest customer satisfaction and lowest defect rates.
They provide a full line of advanced alkaline water ionizers, water filters, filter replacements and cartridges to meet your families' water, ionization and purification needs.
They provide extensive training, education and product knowledge to their dealers on all our water ionizing products.Therefore, dealers can provide installation and exceptional customer service. Their dealers are the most knowledgeable in the industry and can answer any questions you may have, regarding installation, technical support, and general knowledge. We believe in providing the best customer service possible so you can be sure once you purchase a Chanson Water® Ionizer you have the best in the industry are just a phone call away.
They have a price protection policy (we try to stay below market rate on all of our products) to insure customers get the best prices.
They have the best Lifetime Warranty in the industry. The VS-70, Miracle, Miracle M.A.X. and Revolution include full lifetime warranties on parts and a 5 year warranty on labor.The Violet has a full 3 year warranty on parts and labor.
They are a company of ethics and integrity and will never sacrifice quality for profits.
Chanson Manufacturing Plant in Taiwan has ISO 9001 Certificates for all of Chanson's products.
Chanson Water is Better Business Bureau accredited (BBB)
Chanson Water ISO 9001 Certified
Chanson Water is verified of Conformity with CE directives
Chanson Water cares with hazardous substances (RoSH)
Underwriter Laboratory (UL)(In progress)
Chanson Water is member of Water Quality Association
Chanson Water comply to National Standard Foundation International(NSF)
Chanson Water is anti-bacteria certified
Chanson Water ionizer was tested by independent and prestigious lab and its alkaline water is considered higher anti-oxidization value

Chanson's EPA registration number is 90977