Vibra Pro Genesis Kinetic K8 Whole Body Vibration Machine
Sale price
Price
$3,039.98
Regular price
SKU:
VBVPGKK8
UPC:
737934867569
Shipping Weight:
188.0 lb
Powerful Dual 1600W Motors (1100W Triangular Oscillation (Pivotal) Motor and 500W Soft Spiral Rotation/Triplanar Motor)
Vibration Dampening System

Upper Body Straps
Mineral Infused Bio-Mat
450 Lbs. User Weight Rating

Vibra Pro Genesis Kinetic K8 Whole Body Vibration Machine

The Genesis Kinetic K8 is the premier, top-of-the-line Whole Body Vibration Machine featuring 3 different vibrations.  In addition to the different vibration motions, the Genesis Kinetic K8 also incorporates 2 means of vibration dampening to lessen the impact on your floor and the vibrations throughout your house, apartment, or office.  With 1600 Watt total combined motor output, you can be assured that you are getting the best workout you can achieve on a vibration machine. 

What separates the Vibra Pro Genesis Kinetic K8 from the competitors?
3 Distinct Vibration Movements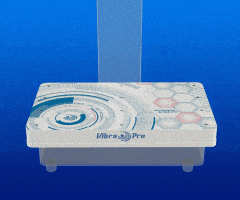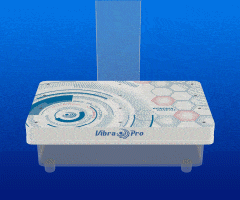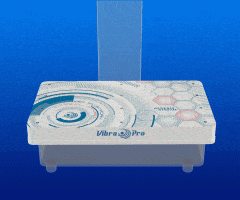 Oscillation
Spiral Rotational
Triplanar
There's more that elevates this exercise machine above the rest!
Unique Vibration Dampening
Specifications
Dual 120v AC 60HZ Motors
1100W Oscillation Motor
500W Hi Output Spiral Rotational/Triplanar Motor
2 DC low emf/hi output
Other Specifications:
Large Platform – 27" W x 20" D
60 Speed Settings for each motor
Control Panel –Smooth Back Lit Screen– easy to clean flat surface
Remote Control
Amplitude – 11mm oscillation/2mm spiral rotational/13 mm soft triplanar
Vibration Frequency – from 14 up to 60 HZ (depending on which motion is being used
G Force Maximum – 5.8G
G Force Time – 94.00%
Power Requirement – 120 Volts AC 60HZ
Built-In Vibration Dampeners – Internal and External
Platform Material – Mineral Infused Bio Mat
Onboard Controllers – 2 Fan Cooled/Double Soldered Type
Soft Upper Body & Hard Straps Included
Onboard Memory – 1GB
Handlebar Style – Dual Horizontal and Dual Vertical w/Closed Cell Foam Double Dipped Epoxy Material (closed cell foam material has no open pores and therefore cannot absorb perspiration or bacteria and will not spread germs)
Shipping Packages – 2
Shipping Gross Weight – 188lbs; Machine Net Weight – 160lbs
Machine Dimensions (assembled) – 57" H x 27" W x 34" D
User Weight Rating – 450lbs
Leveling Legs – can be adjusted for a perfectly balanced machine for any floor type
Foot Support System – Non-marking rubber, suction cup style feet with roller wheels
Complete Package – Includes machine with accessories, power cable, any screws/tools needed for assembly. (only have to attach the column to the base, and attach the handlebars, quite easy to do)
Package also includes Owner's Manual, 2 sets of workout straps, DVD and Workout Poster
Description

Powerful Dual 1600W Motors (1100W Triangular Oscillation (Pivotal) Motor and 500W Soft Spiral Rotation/Triplanar Motor)
Vibration Dampening System

Upper Body Straps
Mineral Infused Bio-Mat
450 Lbs. User Weight Rating


Vibra Pro Genesis Kinetic K8 Whole Body Vibration Machine


The Genesis Kinetic K8 is the premier, top-of-the-line Whole Body Vibration Machine featuring 3 different vibrations.  In addition to the different vibration motions, the Genesis Kinetic K8 also incorporates 2 means of vibration dampening to lessen the impact on your floor and the vibrations throughout your house, apartment, or office.  With 1600 Watt total combined motor output, you can be assured that you are getting the best workout you can achieve on a vibration machine. 


What separates the Vibra Pro Genesis Kinetic K8 from the competitors?

3 Distinct Vibration Movements

 

 

Oscillation

Spiral Rotational

Triplanar

There's more that elevates this exercise machine above the rest!

Unique Vibration Dampening

Specifications

Dual 120v AC 60HZ Motors
1100W Oscillation Motor
500W Hi Output Spiral Rotational/Triplanar Motor
2 DC low emf/hi output

Other Specifications:

Large Platform – 27" W x 20" D
60 Speed Settings for each motor
Control Panel –Smooth Back Lit Screen– easy to clean flat surface
Remote Control
Amplitude – 11mm oscillation/2mm spiral rotational/13 mm soft triplanar
Vibration Frequency – from 14 up to 60 HZ (depending on which motion is being used
G Force Maximum – 5.8G
G Force Time – 94.00%
Power Requirement – 120 Volts AC 60HZ
Built-In Vibration Dampeners – Internal and External
Platform Material – Mineral Infused Bio Mat
Onboard Controllers – 2 Fan Cooled/Double Soldered Type
Soft Upper Body & Hard Straps Included
Onboard Memory – 1GB
Handlebar Style – Dual Horizontal and Dual Vertical w/Closed Cell Foam Double Dipped Epoxy Material (closed cell foam material has no open pores and therefore cannot absorb perspiration or bacteria and will not spread germs)
Shipping Packages – 2
Shipping Gross Weight – 188lbs; Machine Net Weight – 160lbs
Machine Dimensions (assembled) – 57" H x 27" W x 34" D
User Weight Rating – 450lbs
Leveling Legs – can be adjusted for a perfectly balanced machine for any floor type
Foot Support System – Non-marking rubber, suction cup style feet with roller wheels
Complete Package – Includes machine with accessories, power cable, any screws/tools needed for assembly. (only have to attach the column to the base, and attach the handlebars, quite easy to do)
Package also includes Owner's Manual, 2 sets of workout straps, DVD and Workout Poster

 

 

 

 

 
choosing a selection results in a full page refresh